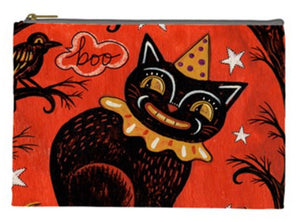 PRE-ORDER - COMING IN STOCK AGAIN 1st/2nd week of October. Spook in Style with our new Johanna Parker Sweet Jack
 Pouch. Made from durable 600d polyester fabric with zippered closure and has a zippered hidden interior compartment perfect for your secret clues! Printed on both sides. Approx. dimensions: 9" (W) x 6" (H).
-----
The distinct style of Johanna Parker Design has reached and inspired many. We are thrilled with our collaboration of Vintage Halloween and Johanna Parker Design. Johanna's JPD Partners in Craft venture supports handmade & small business collaborations in the whimsical spirit of her festive designs. Every purchase of any JPD-inspired collaboration supports both sides!