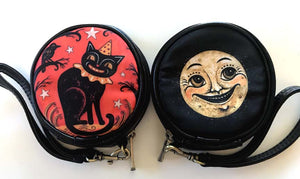 A Collab between Vintage Halloween and Johanna Parker Design featuring Johanna Parker's cute character designs - a different one on each side. This compact and sturdy make-up case or anything case will hold whatever your spooky needs require - within 4" x 1.5" depth. The interior is roomy enough to carry your absolute beauty essentials – lipstick, mascara, foundation and many more. Or slip in your cards, money, and other goodies. Made from durable 600d polyester fabric (image portion). Wristlet style wrist strap handle for easy carrying.
The distinct style of Johanna Parker Design has reached and inspired many. We are thrilled to announce the collaboration of Vintage Halloween and Johanna Parker Design. Johanna's JPD Partners in Craft venture supports handmade & small business collaborations in the whimsical spirit of her festive designs. Every purchase of any JPD-inspired collaboration supports both sides!

Designed and Assembled in collaboration with Jenn at Vintage Halloween and Johanna at Johanna Parker Design: Bootique Boxes, Pins, Ornaments, Buttons, Magnets, Stickers, Jewelry and Key Chain/Charm Clips - check them all out here in the Vintage Halloween shop. Plus a curated collection of Spook-Tacular bags and accessories.